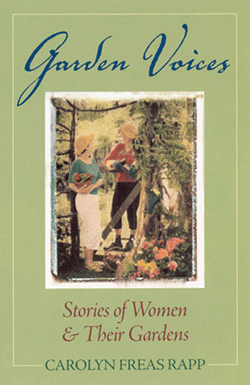 Susan's garden led her from breast cancer back to health. Carol finds inspiration for her watercolors. Francie's garden transports her back in time to Elizabethan England, while Judy's nourishes her friendships. And Nancy's garden, which she shares with her husband, is an ongoing experiment to learn if men and women can find common ground.
Everyone who reads Garden Voices will hear a whisper of themselves in the words of these creative, courageous, wise women. This is not just a book for people who love gardens; it's for people who love stories.

Makes a great gift for holidays, birthdays, hostess – for any expression of friendship.
Perfect for the man trying to find the right gift for wife, mother, partner, daughter, daughter-in-law or co-worker.
For signed and personalized books, click on Contact Author.
Contact us about:
--Retail, group, and volume discounts
--Author's availability to speak at your group

cfrapp@att.net or call 703-241-1610.

Also available at your favorite retail or online bookstore.
What does a garden grow? For the twelve women who tell their stories in Garden Voices, the answer is much more than flowers, herbs, and vegetables.