---
The cover photograph of Garden Voices was taken by Sue's daughter, Sarah Hodzic-Fiorito. To view her photography, visit www.hodzicfiorito.com. Polaroid transfer is the process used on the cover photo of Garden Voices.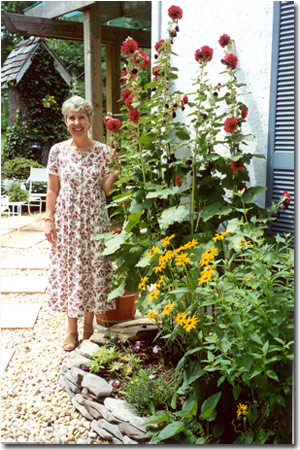 "What I've done is create sacred space in my yard - a garden that enables me to move into the spiritual realms of my life."
Sue's Garden Tips


1. Include water sounds in your garden - chimes or a water fountain - to help shift your consciousness as you work or sit and meditate.
2. Prune your garden as necessary. For me, removing dead branches and leaves is a metaphor for letting go of and trimming away what has died in my life.
3. I use Miracle Grow in my garden - my plants love it and I love the name!
4. Use at least two inches of mulch on your flower beds to keep the soil moist and stop the weeds from growing. I think of it as putting a lovely blanket on my beds.